My 1975 Slingerland Chrome set
While looking for a cheap rehearsal drum set, spring 2010, by chance I ran into a Slingerland drum set for sale in Sweden. The set was chrome wrapped, not a favourite of mine. I had read a lot of less praising comments about the chrome finish.

But in the sixties, Slingerland was THE-ULTIMATE-DREAM-DRUMSET I could not afford because of the sky high pricing.

For a top line vintage drumset, the price asked was reasonable. Actually, the set was much like Neil Peart 70's "Rush" drum set, which was sold a couple years back in eBay for USD 25000! (Only this one had just one kick drum). There was a set of nice cymbals and, as it turned out, the hi-hat stand and double kick drum pedals were actually more fit to me than were the Pearls I had used
- I forgot about the cheap rehearsal set...

So, after a period of messaging back and forth, the situation culminated at a voyage to Sweden. The first impression was a disappointment. The drums seemed really weary, battered and worn out. The badge details and serial numbers suggested around 1975 as the year of manufacture. 35 years of abuse, and you could see that...The snare, which was the one I really was interested in, was wretched. Heavily scratched, dented, disformed, snare tension fine tuning dead, both knobs missing. BUT it was the "Gene Krupa" solid brass snare, the deeper 6.5x14 model, and the more seldom 10 lugs design.
It was summertime, and I had plenty of time to put in renovation. Everything was picked apart of the drums, cleaned, polished and lubricated. Equivalent treatment for the stands, too. The drum shell interiors were sanded and finished with a blend of wood wax, the bearing edges sanded down to 210 grain finish, and waxed.

The snare took two weeks to renovate. The chrome was removed at a local chrome plating workshop. Chrome is much harder than brass, and to grind the surface smooth is not possible without having the chrome removed. All of the dents were hammered from the inside (must be done with extreme care) as even as possible. After this the shell was lightly grinded, gradually down to 1000 grain smoothness and then polished with two different polishing wax coarsenesses.

After polishing, the look was just too great to be missed by a new chrome plating, and so the snare was coated with zapon warnish. The chrome can wait.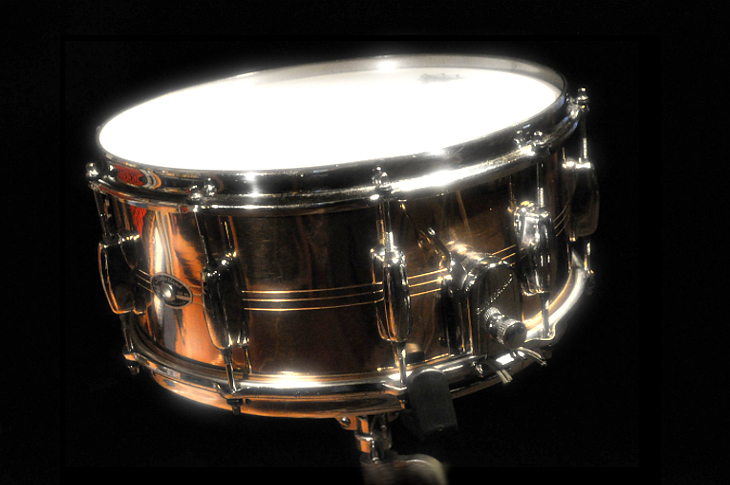 The snare tensioning worm screw - with left handed threading - was worn out and unusable. A new one was crafted from a 6mm stainless steel turnbuckle. Also the fragile points at the snare brackets were reinforced with 1mm stainless steel plates. Not a puristic solution, but works great and looks just fine. You'll need to be a true slingerland expert to notice. Have a closer look at the details.

When the cleaning up was done, new batter heads installed, and original, rather light and worn out wobbly tom stands replaced with new, more robust ones, the set didn't look so bad after all. The scrathes and dimples kind of became unconsidered. Actually, the look was rather impressive!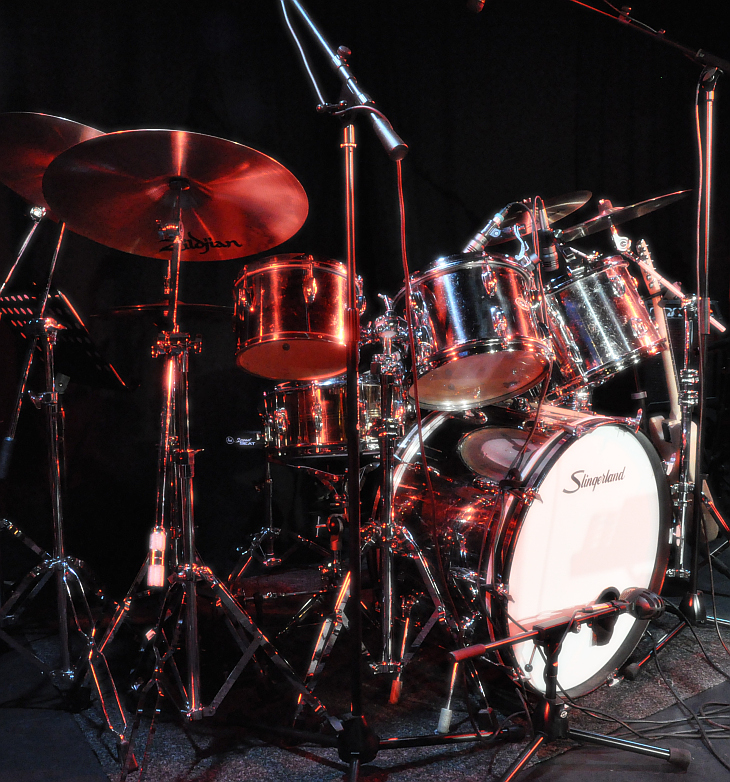 The best part came after some experimenting with different tuning set ups and batter head choices. The sounds were awesome! The kick drum was exactly what I was looking for. Deep, substantial tom sounds, not to mention the great Gene Krupa snare...
After testing with Remo Ambassador, Evans G2, Remo Clear Emperor, Remo Coated Emperor and Remo Vintage Emperor heads, I ended up using the Vintages on all but the snare(coated Emperor) and kick drum. They have a round and warm overall sound that feels - and looks - at home on a set like this. This drumset is heard on the "Sixties Alive!" live album, samples found here.

Setup in the image (lefty) is 14x6.5 brass snare, 24" kick drum, 10 (concert), 12, 13, 14 stand mounted rack toms and 16" floor tom.
The shells are 3-ply mahogany-poplar-maple construction with maple reinforcing rings.